Quality Control: The Benefits of Mockups in Construction
In construction, the client expects the project to be complete on time, within budget, and of a certain level of quality. If there are issues with the quality of work at the end of the project, there are going to be some difficult conversations between the owner and the contractor. The quality of work produced not matching up to the owner's expectations can harm a contractor's reputation and decrease the chances of future work. One way to be sure the quality of work produced aligns with the quality of work expected is to use mockups.
What Are Mockups?
Within a construction project, a mockup is a physical sample of specified materials that are built or assembled in accordance with the drawings. This mockup will represent the quality of installation of a portion of the finished construction project.
Mockups provide the entire team with a tangible and visual representation of the quality of work being produced and serve as a great method of quality control. The complete process, including review, can be very helpful in establishing and maintaining expectations throughout a project.
Mockups can be used for a variety of specifications including, but not limited to, flooring, brick, tile, painting, and decorative ceilings. Additionally, mockups can be completed on a larger scale like with exterior waterproofing or flashing detail. In these cases, the materials can also be tested. Lastly, mockups are especially useful when a project has multiple rooms that are exactly the same such as offices, multi-family living, hotels, or even lab space. One of the rooms can be built ahead of schedule so that all the details and finishes are reviewed and approved by the appropriate stakeholders.
Benefits to the Mockup Process
Assuring quality expectations are being met before getting too far into an installation or project by using mockups has several benefits including:
Avoiding costly mistakes and having to redo portions of a project
Remaining on schedule by avoiding repeat installations
Receiving quality confirmation from owner and design team (crucial during punch list and close out)
Confirming that the flow and functionality of a space feels appropriate to the end user
Contractors learning more about the physical install of the product through trial
Understanding the way installed materials interact with each other
Improving efficiency of installation process and collaboration between trades
Testing materials in real setting and reviewing light and location impacts
Reviewing a Mockup
It is important to do a thorough review of each mockup completed. This includes diligent note taking and recording feedback from stakeholders. Some items to note during the mockup process include:
Specification
Location on drawings
Description of product

Size, color, type, and material

General comments
Here is a sample matrix from a recently completed mockup:
Specification
Location
Description
Grout Color
GL Thickness
Grout Line Thickness
Type of Joint
General Comment
BR Glass Brick
BR-01
Clear polished full brick
Size – Full brick, 3 5/8 x 2 1/4 x 7 5/8
G-501
1/4″ – 3/8″
3/8″
3/8″ Racked
Grout Mixture: Grout should be smooth, less grainy
BR Glass Brick
BR-02
Aqua Marine full brick
Size – Full brick, 3 5/8 x 2 1/4 x 7 5/8
G-602
1/4″ – 3/8″
3/8″
3/8″ Racked
BR Glass Brick
BR-03
Golden Amber Frosted full brick
Size – Full brick, 3 5/8 x 2 1/4 x 7 5/8
G-103
1/4″ – 3/8″
3/8″
3/8″ Racked
BR Glass Brick
BR-04
Smokey Quartz polished full brick
Size – Full brick, 3 5/8 x 2 1/4 x 7 5/8
G-101
1/4″ – 3/8″
3/8″
3/8″ Racked
BR Glass Brick
BR-05
Clear frosted full brick
Size – Full brick, 3 5/8 x 2 1/4 x 7 5/8
G-501
1/4″ – 3/8″
3/8″
3/8″ Racked
Sample Mockups
KMC Partners has completed multiple mockups on recent projects including a glass brick stairwell and a decorative wall showcasing several materials.
Brick Stairwell
Mockup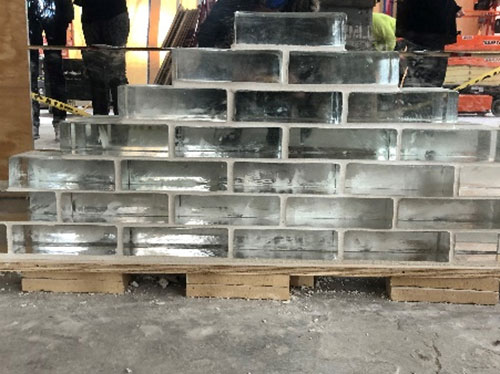 Final Install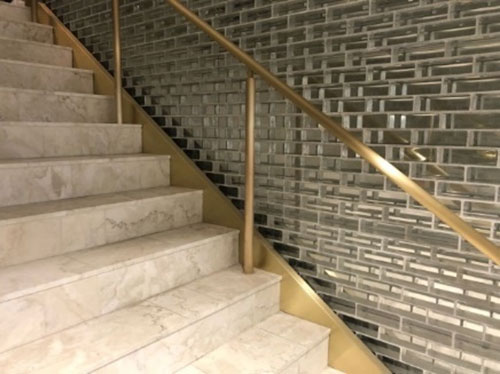 Decorative Display Wall
Mockups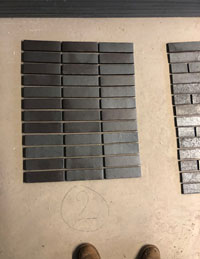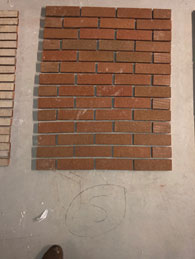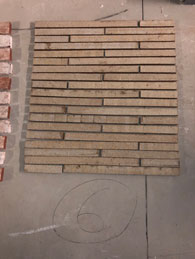 Final Install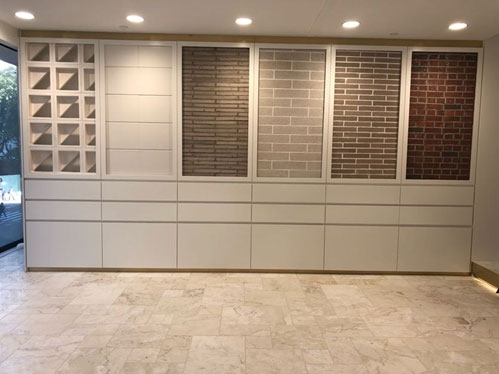 External Examples
Sunrise Erectors Incorporated Mockup
http://sunriseerectors.com/great-shot-of-the-complete-mockup-at-the-citizens-bank-campus-project-in-johnston-ri-looking-forward-to-getting-out-on-site-this-summer-gc-dimeo-construction-company-architect-elkus-manfredi/
Probuilder.com Mockup Assemblies
https://www.probuilder.com/construction-quality-assurance-program-fundamentals
Completing a mockup promotes quality craftsmanship and leads to an effective result. Using proper mockup methodology can empower contractors to control quality, stay on schedule, and under budget. Learn more today about how KMC can improve your project through hands on, onsite strategies.